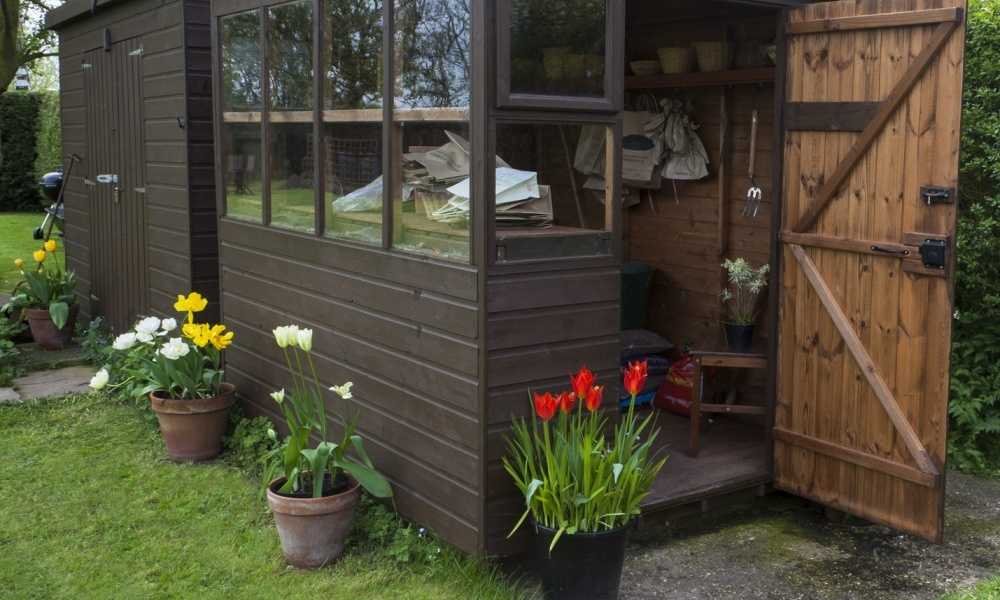 Having a shed is a great option for people who need more storage space outside their homes. Not only is a shed useful for keeping your stuff in, it is also versatile enough to be used for other purposes, like a small workshop, a crafts room or a small office just outside your house.
If you are planning to have a shed but don't have the time or the skills required for such a project, the best solution is to buy one. Purchasing a shed is convenient and will save you time and effort.
Buying a shed may cost you more or less than building your own, depending on the type and style of the shed you want. Hiring a professional to do it may also cost you more.
When purchasing sheds, you have two options to choose from, you can either buy a pre-built one or have a store custom-build one for you. A normal, prefab shed can cost around $300 while a custom-made shed will surely cost more.
Both have certain advantages and disadvantages, but if you are someone with more specific needs for a shed and if you want to have more control over the design and other stuff, choosing a custom-made shed is the best way to go.
Benefits of a Custom Shed
A custom shed built in your backyard can offer more opportunities for you to use your shed. Some of the advantages are:
There is enough space for all your needs
Since the primary purpose of a shed is storage, one of the biggest advantages in a customized shed is that you are guaranteed that all space will be carefully considered and utilized to accommodate your present and future needs for storage.
Although a pre-made shed will also have enough space for everything, because they are mass-produced, the features they usually offer are designed with the storage needs of the average household in mind.
Built any way you want it
The most notable difference of a customized shed from a prefab shed is that you have control over the design of the shed from the inside to the overall appearance. You can choose the color, size and the different amenities or features that you want to add.
If you have a more specific design that you want, buying a custom-made shed will ensure that all your specifications are tailored according to how you want it to be.
Built with quality materials
With customized sheds, materials are usually of good quality since the components are assessed by professionals. It is important that the resilience of the materials used are carefully considered, to ensure that structure will be stable and will last a long time, withstanding wear and tear from the elements so that you are assured that it will serve its purpose for a long time.
Less time consuming
Like pre-built sheds, customized sheds are also easy to set up and install. If you choose to assemble the shed yourself, everything you need will be provided for you according to your specifications. But for more complex designs, you have to hand it to the professionals to do the work for you. This is also a good thing because you can be sure that everything will be built properly.
Built on-site
Most custom sheds take the landscape and layout of your yard into consideration. because they are built on-site.
Versatility
Common sheds are already versatile structures, but with custom-built sheds, there is more potential for multiple purposes. For example, you can allot an area to be used for storage and the remaining can be used as a comfortable workspace or recreational area for your family.
What to look for when choosing a shed builder?
To ensure that your shed is built properly and according to your specifications, choosing the right shed builder is important. Here are a few pointers on how to choose your shed builder:
Do they build custom sheds?
Not all companies offer to build a custom shed according to your design and needs. Most shed builders offer custom sheds where you have to choose from their limited standard options. If you are very specific with your need for a custom shed, choose a builder who is willing to help you in designing a shed that will suit all your needs.
The type of sheds they build
Check the kind of sheds that they build, see if they only specialize in one type or not. Make sure that your shed builder knows how to build the shed you need. For example, a builder who specializes in small sheds may not be comfortable in making large ones, so better check. For large shed projects, choose a reliable builder who has done projects similar to yours in the past.
Versatility in using different materials
Choose a shed builder that knows how to work in the type of material that you want to use. Ideally, he should be able to work in different materials. Most common construction materials used to make sheds are:
Wood
This is the most traditional shed material. It can also be painted to any color you prefer. However, the interiors should be finished with actual ceilings and walls to make cleaning easier and prevent bugs from residing. Wood is a strong material but still vulnerable to harsh elements like water, weather, insects, etc. which can cause damage and rotting. Maintenance with repainting is recommended.
Resin
Under this category are plastic sheds, vinyl and high-density polyethylene sheds. These are newer, alternative materials for making sheds. Resin sheds are lighter and more durable than wooden sheds. They are also low-maintenance, since most resin sheds are made to withstand harsh elements to prevent cracking, warping, or rusting.
Maintenance like repainting is also not required. Assembling resin shed kits is also easy and quick to perform. No carpentry knowledge is usually required in assembling this kind of shed. However, although resin sheds are strong, they cannot bear as much weight hanging from the walls as wood.
Steel
Either steel or galvanized, metal sheds are the least expensive option for shed materials. They are also the weakest material for a shed. Metal sheds can also be more complicated to assemble and customize since metal is hard. Frequent repainting is also needed to keep the appearance fresh.
The price of a custom shed will usually depend on the design, the quality of materials as well as the craftsmanship of the builder. Choose a brand that will fit your budget without compromising the quality of the shed. Remember, you will be using this for years to come.